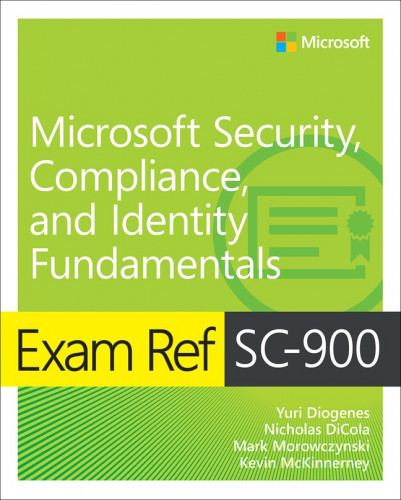 Packt – SC-900: Microsoft Security, Compliance, and Identity Fundamentals-iLLiTERATE
English | Size: 8.28 GB
Category: Tutorial
Learn the fundamentals of security, compliance, and identity across cloud-based and related Microsoft services to pass Microsoft SC 900 exam
About This Video
In-depth understanding of the concepts of information security, compliance, and identity
The course structure is exactly mapped with the Microsoft SC 900 exam
Comprehensive and hands-on guide with resource files
In Detail
Identity is the new perimeter. Application developers and infrastructure teams must focus on identity and the security tools that revolve around it to protect the state of identity. This course covers various aspects of identity and security methodologies used to protect it.
This course begins with the concepts of security, compliance, and identity. You'll look at security methodologies, security concepts, and Microsoft Security and compliance principles. You'll learn the concepts of zero trust methodology, shared responsibility model, and defense in depth.
After that, you'll cover Microsoft Identity and Access Management Solutions. You'll look at identity principles and concepts; basic identity and identity types; authentication, access management, and identity protection; and governance capabilities of Azure Active Directory.
Next up is Microsoft Security Solutions. This includes basic security capabilities and security management capabilities of Azure and Azure Sentinel, Microsoft 365 Defender, Intune, and Microsoft 365.
Finally, you'll look at Microsoft Compliance Solutions. You'll look at compliance management capabilities generally, then have a look at the capabilities in Microsoft 365 of information protection and governance, inside risk, eDiscovery, and audit.
By the end of this course, you will get hands-on knowledge to pass the Microsoft SC 900 exam.
Who this book is for
This course is for a broad audience that may include business stakeholders, new or existing IT professionals, or students who have an interest in Microsoft security, compliance, and identity solutions.
Individuals looking to familiarize themselves with the fundamentals of security, compliance, and identity (SCI) across cloud-based and related Microsoft services can also benefit from this course.
Basic knowledge of security, compliance, and identity, and familiarity with Microsoft Azure and Microsoft 365 will be required.
Concepts of Azure Active Directory would be helpful but not mandatory.
PEARSON OOWNS MAANY EDU BRAANDS INKLUDINNG
ADDISON-WESLEY PEACHPIT PRENTICE-HALL ECOLLEGE
AND MAANY MORE!
WEE ASUMME NO LIIABILLITY FUR A WROONG SPELING
COZ WEE ARRE A NON (iL)LiTERATE GRUP!!
TANNKS TU THE LITERATE ASKII FRIIEND!!
SAUCE00 20211026
V F IBM VGA
Buy Long-term Premium Accounts To Support Me & Max Speed
RAPIDGATOR
rapidgator.net/file/0ca1caa1db92b7a53f2eec3a74ed6556/PACKT_SC-900_MICROSOFT_SECURITY_COMPLIANCE_AND_IDENTITY_FUNDAMENTALS-iLLiTERATE.part01.rar.html
rapidgator.net/file/07c955d8a82952748bd951dea327488c/PACKT_SC-900_MICROSOFT_SECURITY_COMPLIANCE_AND_IDENTITY_FUNDAMENTALS-iLLiTERATE.part02.rar.html
rapidgator.net/file/ac45127596b45cafa485b4deb855fb03/PACKT_SC-900_MICROSOFT_SECURITY_COMPLIANCE_AND_IDENTITY_FUNDAMENTALS-iLLiTERATE.part03.rar.html
rapidgator.net/file/253efb1f9bf87f54b8d8a89d97ac9e49/PACKT_SC-900_MICROSOFT_SECURITY_COMPLIANCE_AND_IDENTITY_FUNDAMENTALS-iLLiTERATE.part04.rar.html
rapidgator.net/file/125d711d5dae6c0195243e8f69d89bbc/PACKT_SC-900_MICROSOFT_SECURITY_COMPLIANCE_AND_IDENTITY_FUNDAMENTALS-iLLiTERATE.part05.rar.html
rapidgator.net/file/e15add25a4c6c406fb3b1c346068ba50/PACKT_SC-900_MICROSOFT_SECURITY_COMPLIANCE_AND_IDENTITY_FUNDAMENTALS-iLLiTERATE.part06.rar.html
rapidgator.net/file/46ecccbf2967eae54f7e5c0378c16771/PACKT_SC-900_MICROSOFT_SECURITY_COMPLIANCE_AND_IDENTITY_FUNDAMENTALS-iLLiTERATE.part07.rar.html
rapidgator.net/file/049e1fc9084f9bd706f023560915ba64/PACKT_SC-900_MICROSOFT_SECURITY_COMPLIANCE_AND_IDENTITY_FUNDAMENTALS-iLLiTERATE.part08.rar.html
rapidgator.net/file/fdb4ea20e22b9579da2b9c00939be663/PACKT_SC-900_MICROSOFT_SECURITY_COMPLIANCE_AND_IDENTITY_FUNDAMENTALS-iLLiTERATE.part09.rar.html
rapidgator.net/file/57f7274c3868942db575bdda0107ca57/PACKT_SC-900_MICROSOFT_SECURITY_COMPLIANCE_AND_IDENTITY_FUNDAMENTALS-iLLiTERATE.part10.rar.html
rapidgator.net/file/fa84637cca348a7de9c62724bd1e1ccb/PACKT_SC-900_MICROSOFT_SECURITY_COMPLIANCE_AND_IDENTITY_FUNDAMENTALS-iLLiTERATE.part11.rar.html
rapidgator.net/file/cdaad2663a4ce662e1ed34f476b42930/PACKT_SC-900_MICROSOFT_SECURITY_COMPLIANCE_AND_IDENTITY_FUNDAMENTALS-iLLiTERATE.part12.rar.html
rapidgator.net/file/542941519e9ac5d4b88942e503909138/PACKT_SC-900_MICROSOFT_SECURITY_COMPLIANCE_AND_IDENTITY_FUNDAMENTALS-iLLiTERATE.part13.rar.html
NITROFLARE
nitro.download/view/C6F23CA8CEEEEB9/PACKT_SC-900_MICROSOFT_SECURITY_COMPLIANCE_AND_IDENTITY_FUNDAMENTALS-iLLiTERATE.part01.rar
nitro.download/view/A29B0806C1670AC/PACKT_SC-900_MICROSOFT_SECURITY_COMPLIANCE_AND_IDENTITY_FUNDAMENTALS-iLLiTERATE.part02.rar
nitro.download/view/B02FF96082CA4D0/PACKT_SC-900_MICROSOFT_SECURITY_COMPLIANCE_AND_IDENTITY_FUNDAMENTALS-iLLiTERATE.part03.rar
nitro.download/view/4BE37F14AA04163/PACKT_SC-900_MICROSOFT_SECURITY_COMPLIANCE_AND_IDENTITY_FUNDAMENTALS-iLLiTERATE.part04.rar
nitro.download/view/8D3B0DB08AFE7A1/PACKT_SC-900_MICROSOFT_SECURITY_COMPLIANCE_AND_IDENTITY_FUNDAMENTALS-iLLiTERATE.part05.rar
nitro.download/view/DB885C59C5405AA/PACKT_SC-900_MICROSOFT_SECURITY_COMPLIANCE_AND_IDENTITY_FUNDAMENTALS-iLLiTERATE.part06.rar
nitro.download/view/E48DE7F587CD866/PACKT_SC-900_MICROSOFT_SECURITY_COMPLIANCE_AND_IDENTITY_FUNDAMENTALS-iLLiTERATE.part07.rar
nitro.download/view/DA8773A282080B9/PACKT_SC-900_MICROSOFT_SECURITY_COMPLIANCE_AND_IDENTITY_FUNDAMENTALS-iLLiTERATE.part08.rar
nitro.download/view/2BB096962229B2A/PACKT_SC-900_MICROSOFT_SECURITY_COMPLIANCE_AND_IDENTITY_FUNDAMENTALS-iLLiTERATE.part09.rar
nitro.download/view/43C8B862D5C9C29/PACKT_SC-900_MICROSOFT_SECURITY_COMPLIANCE_AND_IDENTITY_FUNDAMENTALS-iLLiTERATE.part10.rar
nitro.download/view/CC60936405F82C0/PACKT_SC-900_MICROSOFT_SECURITY_COMPLIANCE_AND_IDENTITY_FUNDAMENTALS-iLLiTERATE.part11.rar
nitro.download/view/D3B22F76CCAE2A0/PACKT_SC-900_MICROSOFT_SECURITY_COMPLIANCE_AND_IDENTITY_FUNDAMENTALS-iLLiTERATE.part12.rar
nitro.download/view/BFCAA348C4E8E6C/PACKT_SC-900_MICROSOFT_SECURITY_COMPLIANCE_AND_IDENTITY_FUNDAMENTALS-iLLiTERATE.part13.rar
If any links die or problem unrar, send request to goo.gl/aUHSZc