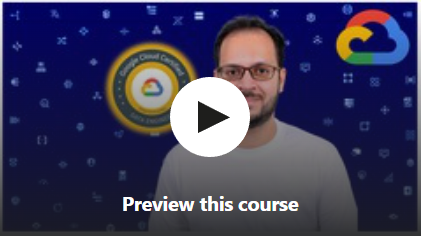 GCP – Google Cloud Professional Data Engineer Certification | Udemy [Update 04/2022]
English | Size:
Genre: eLearning
What you'll learn
Grasp Basic Data Engineering & Database Concept
Provision Basic GCP infrastructure services – VM, Container, GKE, GAE, Cloud Run
Learn Various Storage Product like Cloud Storage, Disk, Filestore for Unstructured Data
Structure Data Solution – SQL, Spanner, BigQuery
Store massive semi structure data in BigTable, Datastore
Deploy Data Pipeline on different Data Processing Product – DataFlow (Apache Beam), DataProc (Hadoop/Spark), Data Fusion, Composer(Airflow)
Cleanse, Wrangle & Prepare Your Data with DataPrep
Machine Learning Basics & its GCP Solution Product
Search Data Asset from Data catalog
Visualize Data by creating Reports & Dashboard with Google Data Studio
Use Prebuilt ML API (Vision, Language, Speech) in your application
Apply Auto ML on your own data to build model
Build Machine Learning Custom Model with Notebook , Scikit Learn Library
Deploy Scikit-learn Model, Tensorflow as endpoint for prediction
Detect Sensitive PII data with Data Loss Prevention (DLP) API
Store process and analyse your petabyte-scale data with Google data warehousing solution cloud bigquery
Decouple application with asynchronous communication Google cloud pub sub
Store data inside the memory for faster access with memory Store redis database
Google Cloud Platform GCP is Fastest growing Public cloud. PDE (Professional Cloud Data Engineer) certification is the one which help to deploy Data Pipeline inside GCP cloud.
This course has 16+ Hours of insanely great video content with 80+ hands-on Lab (Most Practical Course)
Do you want to Deploy Data Pipeline inside GCP.
Do you want to learn about different Storage, database, Processing, ML product offering by GCP to get insight about data.
Do you want to do Data Processing where Internet's biggest App like Google Search, YouTube, GMAIL (Billion users app) store their data, process data & find meaningful insight with ML from your data
If Yes, You are at right place.
——————————————————————
Why Cloud, GCP, Certification, Data Engineering ?
Cloud is the future , & GCP is Fastest growing Public cloud.
87% of Google Cloud certified individuals are more confident about their cloud skills.
More than 1 in 4 of Google Cloud certified individuals took on more responsibility or leadership roles at work.
——————————————————————
Google Cloud : Professional Cloud Data Engineer Certification is the best to invest time and energy to scale your data storage & processing demand.
I am all exited to help you on your journey towards Google Cloud Professional Cloud Data Engineer Certification.
So, I created most practical comprehensive course will prepare you for Professional Cloud Data Engineer certification, having 16+ hours of HD quality video content.
——————————————————————
Why Enroll in this course?
I believe in learning by doing and it's very much practical course
80+ Hands-on Demo
80% Practical's + 20% Theory – Highly Practical course
Highly relevant to exam topics
Covers all major topics related to Storage, Database, processing & ML
Minimum on Slides + Maximum on GCP cloud console
——————————————————————
Have a look at course curriculum, to see depth of Course coverage.
Major Theme of this certification course are:
——————————————————————
1. Data Engineering & GCP Basic Services
In this module I will Start with Data engineering pipeline,
Different Types of data : structure data, semi-structured data, unstructured data, some concept related to batch data processing and stream data GCP related concepts like GCP region and Zones, how to create a GCP account & various GCP service being offered from the data engineering perspective.
Then we'll see about GCP basic infrastructure services like IAM, VM, kubernetes provisioning, app engine, cloud run and cloud function deployment.
——————————————————————
2. Data Storage in GCP
In this module I will teach you different Data storage product for storing unstructured data, Google cloud storage, file Store, persistent disk storage, local SSD storage and how to do data migration from on-premise to GCP.
——————————————————————
3. Database Offering by GCP
In this module I will teach you Database solution for storing structured data & semi-structured data.
For storing structured data inside GCP we have a Google cloud SQL and a cloud spanner is available.
For semi-structured data inside the GCP we have a Google cloud BigTable, DataStore/firestore and for in memory power MemoryStore available
——————————————————————
4. Data Processing in GCP
In This Data processing section we will begin with Data warehousing analytical data processing solution google cloud BigQuery and for asynchronous communication we will see Google cloud PubSub services.
For developing complete pipeline inside GCP –
Dataflow Apache beam solution inside Google cloud
Google cloud DataProc for lift and shift Hadoop and Spark job
Without writing code with just drag and drop build complete pipeline with cloud Data fusion
Monitor Author and schedule a complete workflow we have a Apache airflow – Cloud Composer is available
For sensitive and personally identifiable data detection Data loss prevention API – DLP
Search for or all data set at one single place Data Catalog is available
——————————————————————
5. ML/AI offering in GCP
In this module we will begin with basics of Machine learning
Prepare your data with intelligent data preparation tool Dataprep before throwing all your data to a machine learning algorithm
We will see different pre-built machine learning API for vision, language and speech
Double auto machine learning model with AutoML
Building custom machine learning model with various framework life tensorflow, scikit learn and Pytorch
Bigquery ML for machine learning training with SQL
At the end we will see how to create beautiful reports and visualization with in browser Google cloud data studio tool
——————————————————————
This course also comes with:
Lifetime access to all course material & updates
Q&A Section
A 30 Day Money Back Guarantee – "No Questions Asked"
Udemy Certificate of Completion
So, What are you waiting for, Enroll NOW and I will see you inside course.
Regards
Ankit Mistry
Who this course is for:
Cloud Engineer who want to get certified in Google cloud Data Engineer
Anyone looking to use Google cloud for Data Pipeline in Organization
Data Engineer who want to learn various GCP products for Data Engineering
Anyone who want to learn about various Storage & Database Product for Storing Data
Anyone who want deploy ML Model/ Data Pipeline on Google Cloud
nitro.download/view/BAB2FEF945D1B5D/GCP..Google.Cloud.Professional.Data.Engineer.Certification.7.4.2.part1.rar
nitro.download/view/EA46559AEEE9A57/GCP..Google.Cloud.Professional.Data.Engineer.Certification.7.4.2.part2.rar
nitro.download/view/F33B8777EC1CD34/GCP..Google.Cloud.Professional.Data.Engineer.Certification.7.4.2.part3.rar
nitro.download/view/6144B6658CB3DDE/GCP..Google.Cloud.Professional.Data.Engineer.Certification.7.4.2.part4.rar
nitro.download/view/83F3DE241B07C51/GCP..Google.Cloud.Professional.Data.Engineer.Certification.7.4.2.part5.rar
nitro.download/view/0AABE6A4132A740/GCP..Google.Cloud.Professional.Data.Engineer.Certification.7.4.2.part6.rar
nitro.download/view/6879DD29E62A703/GCP..Google.Cloud.Professional.Data.Engineer.Certification.7.4.2.part7.rar
rapidgator.net/file/e3cfe0b1b7e26abb0a7ca4448c38a528/GCP..Google.Cloud.Professional.Data.Engineer.Certification.7.4.2.part1.rar.html
rapidgator.net/file/cc65ad96f9aaf0e096ea6bcd395d1a3b/GCP..Google.Cloud.Professional.Data.Engineer.Certification.7.4.2.part2.rar.html
rapidgator.net/file/df97a3bf3430313399fd780166466abd/GCP..Google.Cloud.Professional.Data.Engineer.Certification.7.4.2.part3.rar.html
rapidgator.net/file/9d37b55e9ee5710afc8cc54fd6d3860c/GCP..Google.Cloud.Professional.Data.Engineer.Certification.7.4.2.part4.rar.html
rapidgator.net/file/7a40e98cd79ce47fa8826ca9faaaba87/GCP..Google.Cloud.Professional.Data.Engineer.Certification.7.4.2.part5.rar.html
rapidgator.net/file/58d66722856b72b43ac6cc888a8f40a1/GCP..Google.Cloud.Professional.Data.Engineer.Certification.7.4.2.part6.rar.html
rapidgator.net/file/8944c00fe58a7758cc8ecda4e14bbda2/GCP..Google.Cloud.Professional.Data.Engineer.Certification.7.4.2.part7.rar.html
If any links die or problem unrar, send request to
forms.gle/e557HbjJ5vatekDV9