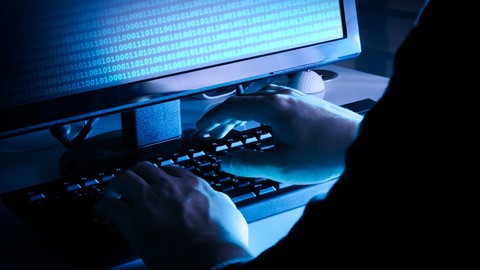 The Road to Ethical Hacking – Beginner to Expert!: 3-in-1 | Udemy
English | Size: 7.56 GB
Genre: eLearning
What you'll learn
Work with the Metasploit toolkit to test the effectiveness of defenses.
Incorporate sniffing with the Man-in-the-Middle attack.
Bypass modern security defenses to understand the ins and outs of security.
Learn Network Pentesting Steps and gather Network Based Vulnerabilities Details
Work with websites and web Scanning Process to tackle attacks on Network Devices
Learn latest website based attack e.g. – SQL injection, XSS attack, csrf attack etc and ways to tackle them.
Prevent Brute Force Attack, Shell upload Attack, Buffer Overflow Attack Learning latest Android Based Vulnerabilities and way to exploit them Practicing questions to crack Global Ethical hacking Exam.
Cyber threats are on the increase with the rising growth of technology, thus giving rise to the need for ethical hacking and advanced security. The movement toward the cloud and Virtualization has led to an increased level of threats and thus the demand for Ethical Hackers. Hacking doesn't always mean damage, invasion of privacy, or stealing confidential data. There exists an ethic to it too! For everyone interested in using hacking to find loopholes in their systems and strengthen them, Ethical Hacking is the answer. Security is the foremost concern for all organizations both big and small, and thus companies and people are ready to invest in enhanced security, pentesting, and Ethical Hacking.
This comprehensive 3-in-1 course is a comprehensive course full of the latest and most important tools for you to be a master in the Ethical Hacking world! You'll begin to work with the Metasploit toolkit to test the effectiveness of defenses. You'll then use Kali Linux for information gathering, vulnerability assessment, exploitation, password cracking, and network sniffing and spoofing. Finally, you'll learn Network pentesting, Website pentesting, Android pentesting as well as prepare for Ethical Hacking exam!
By the end of the course, you'll hack your way to a secure and threat-free environment using best-in-class tools and techniques with Kali Linux!
Who this course is for:
Ethical Hackers, Penetration Testers, Network Administrators, Cyber Security Specialists, or IT Security Professionals who want to take their Ethical Hacking skills to the next level to defense against the dark arts!
nitro.download/view/FA9306826A43C58/TheRoadtoEthicalHacking-BeginnertoExpert3-in-1.part1.rar
nitro.download/view/390D39494D0092A/TheRoadtoEthicalHacking-BeginnertoExpert3-in-1.part2.rar
nitro.download/view/CE2614E84953E8E/TheRoadtoEthicalHacking-BeginnertoExpert3-in-1.part3.rar
nitro.download/view/C4FDE3663E57754/TheRoadtoEthicalHacking-BeginnertoExpert3-in-1.part4.rar
nitro.download/view/F9AF2C229CD001F/TheRoadtoEthicalHacking-BeginnertoExpert3-in-1.part5.rar
nitro.download/view/0CCEE92CC4909AD/TheRoadtoEthicalHacking-BeginnertoExpert3-in-1.part6.rar
nitro.download/view/219DCD674496C77/TheRoadtoEthicalHacking-BeginnertoExpert3-in-1.part7.rar
nitro.download/view/BADCA96EB9DF52C/TheRoadtoEthicalHacking-BeginnertoExpert3-in-1.part8.rar
rapidgator.net/file/fa144283544faa5baf5f628f3f3b7624/TheRoadtoEthicalHacking-BeginnertoExpert3-in-1.part1.rar.html
rapidgator.net/file/2854b5bc0b006f0ae97f83dc2e74db6b/TheRoadtoEthicalHacking-BeginnertoExpert3-in-1.part2.rar.html
rapidgator.net/file/533a3bc01a201c339e7019d3f6792ece/TheRoadtoEthicalHacking-BeginnertoExpert3-in-1.part3.rar.html
rapidgator.net/file/49d044531864c5f4e6783ab5ce0a92e1/TheRoadtoEthicalHacking-BeginnertoExpert3-in-1.part4.rar.html
rapidgator.net/file/964c1ec8a8f1e98de1bce22f49405c77/TheRoadtoEthicalHacking-BeginnertoExpert3-in-1.part5.rar.html
rapidgator.net/file/b6df1b59ec62e34561c79342b69b9789/TheRoadtoEthicalHacking-BeginnertoExpert3-in-1.part6.rar.html
rapidgator.net/file/c1de4236b05567738727d30d651a4ce1/TheRoadtoEthicalHacking-BeginnertoExpert3-in-1.part7.rar.html
rapidgator.net/file/93824b16bff1262202dc99c87486bea6/TheRoadtoEthicalHacking-BeginnertoExpert3-in-1.part8.rar.html
If any links die or problem unrar, send request to
goo.gl/t4uR9G