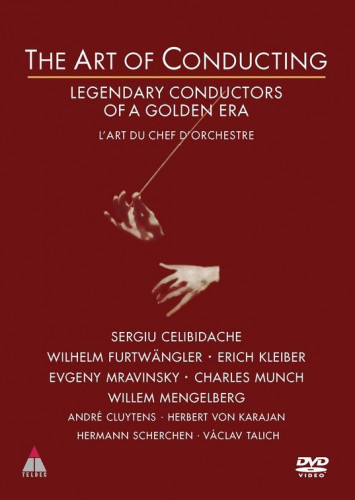 Teldec Classics – The Art of Conducting: Legendary Conductors of a Golden Era (1997)
English | Size: 1.80 GB
Category: Documentary
No matter how gifted the performers in an ensemble may be, it takes a great conductor to make a great orchestra, and this documentary offers a glimpse of the world's finest conductors, in both rehearsal and performance. Anyone interested in the major conductors of the 20th century will be fascinated by this film, which chronicles six world-renowned maestri, including Evgeny Mravinsky, Charles Munch and Sergiu Celibidache.
When the first instalment of 'The Art of Conducting – Great Conductors of the Past', based on a BBC television series, originally appeared on VHS and LaserDisc it was rightly acclaimed as a revelation. Not surprisingly, it won many prizes, including the 1995 Gramophone Award for Video. It's international success confirmed that there is a large and enthusiastic audience for historical film material on great conductors. Inevitably, it was not possible to include all the important figures in the first program, with the result that Teldec was inundated with requests to produce a second volume.
The second instalment, 'The Art of Conducting – Legendary Conductors of a Golden Era' differs from the first in that it has been produced by Teldec alone, and chosen to concentrate on fewer conductors in order to present as much rehearsal and performance footage as possible, complemented by commentary from music personalities who knew the artists first-hand.
Program has longer portraits of six major conductors of the twentieth century: Sergiu Celibidache, Wilhelm Furtwangler, Erich Kleiber, Willem Mengelberg, Evgeny Mravinsky, Charles Munch, so that as much rehearsal and performance footage as possible is included (100 minutes out of a total of 115 minutes). Some of the footage is very rare, and hasn't been seen since it was screened on television in the 1960's.
There is a small amount of commentary from eminent musicians who knew these artists first hand, including Yehudi Menuhin, Daniel Barenboim and Bernard Haitink.
The film demonstrates many of the early filming techniques for classical music, from newsreel footage and early studio recordings, to "tele-recording" and the advent of video.
"The Art of Conducting: Legendary Conductors of a Golden Era" includes footage of Wilhelm Furtwangler, Evgeny Mravinsky, Erich Kleiber, Sergiu Celibidache, Charles Munch, and Willem Mengelberg hard at work, with observations on the art of conduction from Daniel Barenboim, Yehudi Menuhin, Peter Andry, and many more. As a bonus, rare film clips of Herbert von Karajan, Herman Scherchen, Andre Cluytens and Vaclav Talich are included.
Produced by Marcos Klorman ; Directed by Peter R. Smith ; A Teldec Classics Production in Association with IMG Artists
Buy Long-term Premium Accounts To Support Me & Max Speed
RAPIDGATOR
rapidgator.net/file/13f5cfa355eecc748b124077f705e71f/The.Art.of.Conducting.Legendary.Conductors.of.a.Golden.Era.x264.AC3.MVGroup.org.part1.rar.html
rapidgator.net/file/0f0ec5e4d9800e57aaac2735fe1c73fe/The.Art.of.Conducting.Legendary.Conductors.of.a.Golden.Era.x264.AC3.MVGroup.org.part2.rar.html
rapidgator.net/file/21868ba737cf1301ce4b844baee59841/The.Art.of.Conducting.Legendary.Conductors.of.a.Golden.Era.x264.AC3.MVGroup.org.part3.rar.html
NITROFLARE
nitro.download/view/050938DB9ABA471/The.Art.of.Conducting.Legendary.Conductors.of.a.Golden.Era.x264.AC3.MVGroup.org.part1.rar
nitro.download/view/9DBCE3F2D4ADE4B/The.Art.of.Conducting.Legendary.Conductors.of.a.Golden.Era.x264.AC3.MVGroup.org.part2.rar
nitro.download/view/6E4E7AA390F8F25/The.Art.of.Conducting.Legendary.Conductors.of.a.Golden.Era.x264.AC3.MVGroup.org.part3.rar
If any links die or problem unrar, send request to goo.gl/aUHSZc