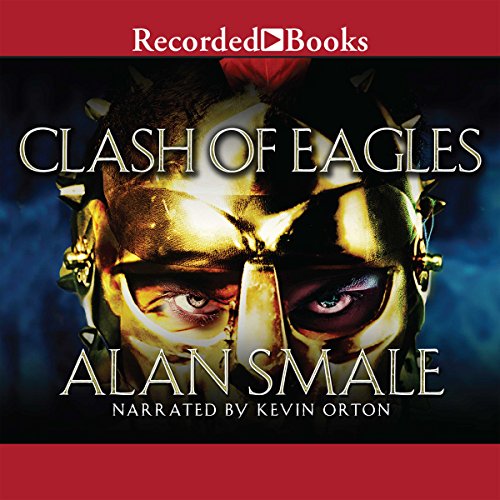 Smale, Alan – Clash of Eagles 1-3 (2015-2017) Kevin Orton
English | Size: 1.45 GB
Category: eBook
Clash of Eagles
It's The Last of the Mohicans meets HBO's Rome in this exciting and inventive debut novel from Sidewise Award-winner Alan Smale that will thrill fans of alternate history, historical fiction, and military fiction.
In a world where the Roman Empire never fell, a legion under the command of general Gaius Marcellinus invades the newly-discovered North American continent. But Marcellinus and his troops have woefully underestimated the fighting prowess of the Native American inhabitants. When Gaius is caught behind enemy lines and spared, he must reevaluate his allegiances and find a new place in this strange land.
Eagle in Exile
In A.D. 1218, Praetor Gaius Marcellinus is ordered to conquer North America and turning it into a Roman province. But outside the walls of the great city of Cahokia, his legion is destroyed outright; Marcellinus is the only one spared. In the months and years that follow, Marcellinus comes to see North America as his home and the Cahokians as his kin. He vows to defend these proud people from any threat, Roman or native.
After successfully repelling an invasion by the fearsome Iroqua tribes, Marcellinus realizes that a weak and fractured North America won't stand a chance against the returning Roman army. Worse, rival factions from within threaten to tear Cahokia apart just when it needs to be most united and strong. Marcellinus is determined to save the civilization that has come to mean more to him than the empire he once served. But to survive the swords of Roma, he first must avert another Iroqua attack and bring Cahokia together. Only with the hearts and souls of a nation at his back can Marcellinus hope to know triumph.
Eagle and Empire
Roman Praetor Gaius Marcellinus came to North America as a conqueror, but after meeting with defeat at the hands of the city-state of Cahokia, he has had to forge a new destiny in this strange land. In the decade since his arrival, he has managed to broker an unstable peace between the invading Romans and a loose affiliation of Native American tribes known as the League.
But invaders from the west will shatter that peace and plunge the continent into war: The Mongol Horde has arrived and they are taking no prisoners.
As the Mongol cavalry advances across the Great Plains leaving destruction in its path, Marcellinus and his Cahokian friends must summon allies both great and small in preparation for a final showdown. Alliances will shift, foes will rise, and friends will fall
Buy Long-term Premium Accounts To Support Me & Max Speed
RAPIDGATOR
rapidgator.net/file/1ddd166ed15da0397bebbdbdf22b9858/Smale,_Alan_-_Clash_of_Eagles_1-3_(2015-2017)_Kevin_Orton.part1.rar.html
rapidgator.net/file/776ec41eacb9daadd74f8a6e9c58f676/Smale,_Alan_-_Clash_of_Eagles_1-3_(2015-2017)_Kevin_Orton.part2.rar.html
rapidgator.net/file/0791a96b6c8ca42212f1e54af70341f8/Smale,_Alan_-_Clash_of_Eagles_1-3_(2015-2017)_Kevin_Orton.part3.rar.html
NITROFLARE
nitro.download/view/72F175C10C085B4/Smale%2C_Alan_-_Clash_of_Eagles_1-3_%282015-2017%29_Kevin_Orton.part1.rar
nitro.download/view/0CA252B4AFF0FDD/Smale%2C_Alan_-_Clash_of_Eagles_1-3_%282015-2017%29_Kevin_Orton.part2.rar
nitro.download/view/B7AAE61163CC0D4/Smale%2C_Alan_-_Clash_of_Eagles_1-3_%282015-2017%29_Kevin_Orton.part3.rar
If any links die or problem unrar, send request to goo.gl/aUHSZc