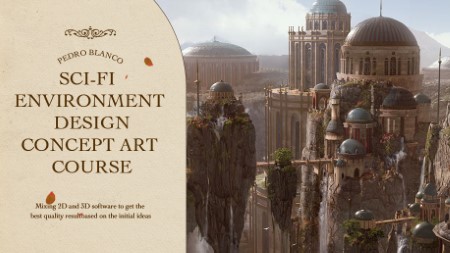 Sci-fi Environment Design Concept Art Course | Wingfox
English | Size: 5.47 GB
Genre: eLearning
This course will focus on creating attractive sci-fi/nature environment concept art. the tutor will start with his intiial ideas and the refence gathering. then the tutor will create a simple 3d blocking and the develep it using modeling and sculpting after than, you will learn how to create your own buildings to have a personal kit to set up composition. you are going to learn how to texture it to make cool results.
Chapter 1: Introduction
1. Theory – Searching for an idea Part1(7m 40s)
1. Theory – Searching for an idea Part2(23m 11s)
2. Reference researches(20m 52s)
3. Introduction to Blender 2.83(30m 4s)
Chapter 2: Blockout Process
4. Creating rough block out Part 1(28m 48s)
5. Creating rough block out Part 2(29m 11s)
6. Creating rough block out Part 3(11m 46s)
Chapter 3: Creating Environment Assets
7. Environment creating mountains Part 1(26m 39s)
8. Environment creating mountains Part 2(23m 49s)
9. Environment creating vegetation Part 1(25m 9s)
10. Environment creating vegetation Part 2(18m 12s)
Chapter 4: Modeling Buildings
11. Building creation Part 1(27m 37s)
12.Building creation Part 2(22m 54s)
13.Building creation Part 3(27m 55s)
14.Building creation Part 4(14m 19s)
Chapter 5: Particles System
15.Building creation Scattering and Particles system Part 1(27m 31s)
16.Building creation Scattering and Particles system Part 2(29m 53s)
17.Building creation Scattering and Particles system Part 3(7m 33s)
Chapter 6: Lighting and Rendering
18.Making the atmosphere and lighting(25m 29s)
19.Preparing and making an appropriate render Part 1(20m 27s)
20.Preparing and making an appropriate render Part 2(16m 9s)
21. Preparing and making an appropriate render Part 2 extra(9m 20s)
Chapter 7: Photoshop and Overpaint Process
22.Photoshop layer order(20m 3s)
23.Overpainting Part 1(28m 36s)
24.Overpainting Part 2(29m 4s)
25.Overpainting Waterfalls(33m 2s)
Chapter 8: Photoshop and Overpaint Process 2
26.Overpainting Environment(28m 27s)
27.Overpainting Buildings Textures(26m 8s)
28.Overpainting People(28m 1s)
Chapter 9: Final Retouches and Exporting Process
29.Concept final fixes Part 1(30m 44s)
30.Concept final fixes Part 2(28m 19s)
31.Preparing the projection and split layers(33m 55s)
Chapter 10: Animation in Blender
32.Setting the animation in Blender Part 1(29m 24s)
33. Setting the animation in Blender Waterfalls Part 2.(24m 23s)
34.Setting the animation in Blender Flags Part 3(25m 45s)
35.Setting the animation in Blender Flags Part 4(17m 18s)
Chapter 11: Final Look
36. Making final presentation
DOWNLOAD FROM TURBOBIT
turb.pw/0p3pzadza98i/WingFox-Sci-FiEnvironmentDesignConceptArt.5.6.part1.rar.html
turb.pw/lsaggqudne2l/WingFox-Sci-FiEnvironmentDesignConceptArt.5.6.part2.rar.html
turb.pw/9im15pnnjr1p/WingFox-Sci-FiEnvironmentDesignConceptArt.5.6.part3.rar.html
turb.pw/eyvf5byr3r7j/WingFox-Sci-FiEnvironmentDesignConceptArt.5.6.part4.rar.html
turb.pw/olwqe8v1ctv9/WingFox-Sci-FiEnvironmentDesignConceptArt.5.6.part5.rar.html
turb.pw/1mmj0e942rah/WingFox-Sci-FiEnvironmentDesignConceptArt.5.6.part6.rar.html
DOWNLOAD FROM RAPIDGATOR
rapidgator.net/file/d0f18f04a5f81610ed86bb5c895e1497/WingFox-Sci-FiEnvironmentDesignConceptArt.5.6.part1.rar.html
rapidgator.net/file/30d0ff9374451824cc9192aefa2eb5ec/WingFox-Sci-FiEnvironmentDesignConceptArt.5.6.part2.rar.html
rapidgator.net/file/ad11b903d6965f54ef2785abdd97dafc/WingFox-Sci-FiEnvironmentDesignConceptArt.5.6.part3.rar.html
rapidgator.net/file/4c437bcdcd43a1239d4980b37d813b57/WingFox-Sci-FiEnvironmentDesignConceptArt.5.6.part4.rar.html
rapidgator.net/file/28df462a9b7ed0a89bbe52c6b11f7555/WingFox-Sci-FiEnvironmentDesignConceptArt.5.6.part5.rar.html
rapidgator.net/file/cd138e4fc4f0a04efce0eee8c7ac99e1/WingFox-Sci-FiEnvironmentDesignConceptArt.5.6.part6.rar.html
DOWNLOAD FROM NITROFLARE
nitro.download/view/B50570041194BF9/WingFox-Sci-FiEnvironmentDesignConceptArt.5.6.part1.rar
nitro.download/view/281450FBBBCA208/WingFox-Sci-FiEnvironmentDesignConceptArt.5.6.part2.rar
nitro.download/view/77171FCFC3014AC/WingFox-Sci-FiEnvironmentDesignConceptArt.5.6.part3.rar
nitro.download/view/EFAFABB5114AEFA/WingFox-Sci-FiEnvironmentDesignConceptArt.5.6.part4.rar
nitro.download/view/08859757B728A08/WingFox-Sci-FiEnvironmentDesignConceptArt.5.6.part5.rar
nitro.download/view/5C430CDE8EBA325/WingFox-Sci-FiEnvironmentDesignConceptArt.5.6.part6.rar
If any links die or problem unrar, send request to
forms.gle/e557HbjJ5vatekDV9