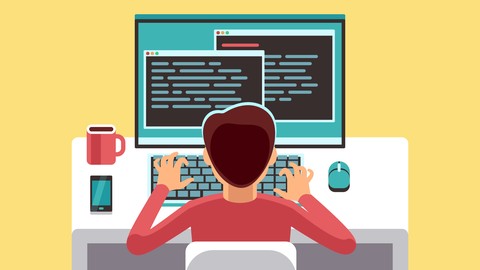 Penetration Testing with Kali Linux – A Complete Guide! | Udemy
English | Size: 7.16 GB
Genre: eLearning
What you'll learn
Learn about the tools that Kali Linux offers to perform network penetration testing.
Crack Wireless network access points in the area using services such as ArioDump, John the Ripper, and even Cain & Abel!
Perform a flawless reconnaissance with methods that include NSLookup, WhoIS, NetCraft, theHarvester, and more!
Build a test lab using Oracle VirtualBox, Kali Linux, and two vulnerable applications: DVWA and InsecureBank.
Scan and discover Windows environments to identify an attack surface.
Create persistent access to an exploited machine and maintain a stable backdoor.
Have you ever wondered how to test web applications' security?
Managing Windows security has always been a challenge for any security professional. As Windows is the most popular operating system in the corporate environment, this course will help you detect and tackle attacks early to save your data and money!
Kali Linux is rated as the #1 security operating system for hackers. Kali Linux offers a multitude of options to scan a single IP, port, or host (or a range of IPs, ports, and hosts) and discover vulnerabilities and security holes. The output and the information this provides can serve as a precursor to penetration testing efforts.
This Learning Path takes a practical approach with step-by-step recipes to conduct effective penetration testing using the powerful Kali Linux! At the very beginning, you'll develop your skills using attacks such as wireless cracking, Man-in-the-Middle, and Denial of Service (DOS). Also, explore tools such as Metasploit, Wireshark, Nmap, and much more to detect vulnerabilities with ease! Finally, you'll master all phases in a typical penetration testing project focusing on relevant Windows tools and techniques.
By the end of the course, you'll be one step ahead of hackers by discovering and patching your network vulnerabilities as well as performing professional-level web penetration testing!
Contents and Overview
This training program includes 4 complete courses, carefully chosen to give you the most comprehensive training possible.
The first course, Learning Network Penetration Testing with Kali Linux, covers discovering and patching your network vulnerabilities. Learn how to test your network against various types of attacks. We will teach viewers how to install Kali Linux, discuss different phases of pen testing, etc. By the end of this section, you will become familiar with the tools that Kali Linux offers to perform network penetration testing, how to exploit the vulnerable systems and how to patch them.
The second course, Kali Linux Penetration Testing Recipes, covers End-to-End penetration testing solutions. This course covers several great resources within Kali Linux and you'll use them to perform a full website and server vulnerability test, brute-force your way past passwords, search for back-doors, and other tasks. Finally, you'll create a professional report and hand it to your client.
The third course, Hands-On Web Penetration Testing with Kali Linux, covers testing web security with Kali Linux. Have you ever wondered how to test web applications security? This course will teach you about web application vulnerabilities and how to use Kali Linux tools to perform web penetration testing to professional standards. You will start with application security and learn about the process of web penetration testing. Then you'll create a test lab with Oracle VirtualBox and Kali Linux. Next, you'll learn about common vulnerabilities in web applications with practical examples, which will help you understand the process of penetration testing and the importance of security. Now you'll be introduced to different tools to assess and analyze web application vulnerabilities. In the end, you'll learn to secure web applications.
By the end of the course, you'll be able to perform web penetration testing using Kali Linux.
The fourth course, Practical Windows Penetration Testing, covers Attacking & securing Windows systems with Metasploit and Kali Linux. This course will follow a typical penetration test scenario throughout. At each stage, you will be shown all the necessary tools and techniques, and how they are applied. The whole course is hands-on to guarantee that you gain practical knowledge. You will start by setting up the environment and learn service identification and network scanning techniques. You will master various exploitation and post exploitation techniques. You will also learn to proxy traffic and implement the most famous hacking technique: the pass-the-hash attack.
By the end of this video tutorial, you will be able to successfully identify and tackle the flaws and vulnerabilities within the Windows OS (versions 7, 8.1, 10) using Metasploit and Kali Linux tools.
By the end of the course, you'll conquer the world of PyTorch to build useful and effective Deep Learning models with the PyTorch Deep Learning framework!
Who this course is for:
IT security professionals, Pentesters, Ethical hackers, System Administrators, and Security Analysts who have a basic knowledge of Kali Linux and want to perform professional-level, advanced web penetration testing.
nitro.download/view/9DBCBBE08704732/PenetrationTestingwithKaliLinux-ACompleteGuide.part1.rar
nitro.download/view/C7CCB33EA95801E/PenetrationTestingwithKaliLinux-ACompleteGuide.part2.rar
nitro.download/view/A8982CCF0D46D3D/PenetrationTestingwithKaliLinux-ACompleteGuide.part3.rar
nitro.download/view/6C0DEDBDEA108A8/PenetrationTestingwithKaliLinux-ACompleteGuide.part4.rar
nitro.download/view/DD97C31B9ABA6C2/PenetrationTestingwithKaliLinux-ACompleteGuide.part5.rar
nitro.download/view/67217908285C951/PenetrationTestingwithKaliLinux-ACompleteGuide.part6.rar
nitro.download/view/EC9708C5527EE16/PenetrationTestingwithKaliLinux-ACompleteGuide.part7.rar
nitro.download/view/2B21B897E68AC12/PenetrationTestingwithKaliLinux-ACompleteGuide.part8.rar
rapidgator.net/file/7d5f92335f7a0c9a2a17179a166dd072/PenetrationTestingwithKaliLinux-ACompleteGuide.part1.rar.html
rapidgator.net/file/b1b7f57c8c3b5ba623366f14c20e4fe6/PenetrationTestingwithKaliLinux-ACompleteGuide.part2.rar.html
rapidgator.net/file/580211c51daf8bef927006e88cbf11cb/PenetrationTestingwithKaliLinux-ACompleteGuide.part3.rar.html
rapidgator.net/file/a016948a19cd463868752db3f55c4bc6/PenetrationTestingwithKaliLinux-ACompleteGuide.part4.rar.html
rapidgator.net/file/7be264924cbdc335a242f92dc345386a/PenetrationTestingwithKaliLinux-ACompleteGuide.part5.rar.html
rapidgator.net/file/534700851e4e2a2182d3b9863659f9e7/PenetrationTestingwithKaliLinux-ACompleteGuide.part6.rar.html
rapidgator.net/file/07e0d9ebca435efcebc3f21a3d21b34b/PenetrationTestingwithKaliLinux-ACompleteGuide.part7.rar.html
rapidgator.net/file/a70662395fdd37da7f247a1180dcab79/PenetrationTestingwithKaliLinux-ACompleteGuide.part8.rar.html
If any links die or problem unrar, send request to
goo.gl/t4uR9G