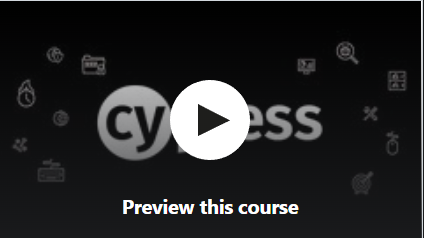 Cypress -Modern Automation Testing from Scratch + Frameworks | Udemy
English | Size: 7.33 GB
Genre: eLearning
What you'll learn
Understand Cypress from Scratch and build fast and reliable Automation tests for any Web Applications using Cypress
Complete Understanding of JavaScript Basics so that you can implement Best practices of coding for Cypress Tests
Practical knowledge in designing Cypress Automation framework from scratch using Mocha and Cucumber Frameworks
Understand how to Mock Network responses and Perform Integration testing with Cypress
Real Time Hands On Exercises to practice Cypress Parallelly with Videos for building confidence on the tool
You will learn advanced architectural concepts (Page Object Modelling and more) with CI/CD Jenkins Integration
Complete understanding of Cypress Components for generating test execution Videos ,Screenshots & Reporting
Course Updated with Cypress V8 BDD Framework on March 14th . Next Update – April 4th on Cypress Accessibility testing.
The one and only Cypress course in Udemy with ** official BEST SELLER Tag *** and Highest Ratings -4,000+ 5 star Ratings)/ /
This Course includes – Web Automation with Cypress + Cypress Test Runner features + Cypress Integration Testing + Cypress API Testing + Cypress Database Testing + 2 Top class Javascript Frameworks from Scratch using Mocha & Cucumber
This Course also gives you 3 hours in depth understanding on javascript basics so that you can build Powerful Cypress programming tests
What is Cypress?
Cypress – The most Buzzing word in Automation world which is expected to play a key role in future for its fast, easy and reliable testing for anything that runs in a browser.
Because of its Architectural design, Cypress comes with out of box capabilities to bring Stable Automation results for all Modern Web Apps.
It also have the ability to perform Integration testing by mocking incoming network responses
For Test Debugging, Cypress takes Screenshot by default for every test step and generate execution Mp4 video after every test run ..
There are many more WOW Factors like above which you will come across in Training.
*********************************************************************************************************
These top class videos are completely designed from scratch using many real time examples with in detail explanation on each and every concept of Cypress along with Framework design best Practices
And I Bet! On course Completion You can develop Cypress Automation framework on your own or crack any Cypress related interviews.
Below is the high level Content we Cover in the course:
Introduction to Cypress
Cypress Architecture
Cypress Installation & Project Setup
Cypress Test Runner features
Command line arguments for Cypress
Cypress Basic Commands for Automation
Cypress & Jquery combination
UI Automation (Checkboxes,Radio buttons, Editboxes,Dropdowns with Cypress)
Handling Popups,Alerts using Cypress
Handling Child windows and Frames with Cypress
Cypress Assertions in detail
Cypress Framework Best Practises
Cypress Fixtures and Custom commands
Page object Design pattern with Cypress tests
Test Parameterization and Data driven with Cypre
Configuration properties and environmental variables discussion
Cypress Dashboard features with video recording and Screenshots
Building npm scripts and Integrating Cypress framework into Jenkins
Cypress Cucumber BDD Integration
Cucumber Data Driven, Tagging, Hooks, HTML reporting features for Cypress Tests
XHR Testing with Cypress
Mocking API calls with Cypress Intercept commands
Javascript Basics
Wish you all the Best! See you all in the course with above topics 🙂
Who this course is for:
Automation Engineers
Software Engineers
Manual testers
Software developers
nitro.download/view/4093C14E0641F3F/UD-Cypress-Modern-Automation-Testing-from-Scratch-Frameworks.23.3.part1.rar
nitro.download/view/3796FB5CE206E0F/UD-Cypress-Modern-Automation-Testing-from-Scratch-Frameworks.23.3.part2.rar
nitro.download/view/7BAB108977F0E1A/UD-Cypress-Modern-Automation-Testing-from-Scratch-Frameworks.23.3.part3.rar
nitro.download/view/EE4028169DADB06/UD-Cypress-Modern-Automation-Testing-from-Scratch-Frameworks.23.3.part4.rar
nitro.download/view/6EF1313459FA1B3/UD-Cypress-Modern-Automation-Testing-from-Scratch-Frameworks.23.3.part5.rar
nitro.download/view/0A862CB259EC513/UD-Cypress-Modern-Automation-Testing-from-Scratch-Frameworks.23.3.part6.rar
nitro.download/view/E8252D62487C238/UD-Cypress-Modern-Automation-Testing-from-Scratch-Frameworks.23.3.part7.rar
nitro.download/view/F85005AFF705A55/UD-Cypress-Modern-Automation-Testing-from-Scratch-Frameworks.23.3.part8.rar
rapidgator.net/file/9a112f3c969ce27226e55947e0dc4682/UD-Cypress-Modern-Automation-Testing-from-Scratch-Frameworks.23.3.part1.rar.html
rapidgator.net/file/307f685865af60cea50fbd2c6ec566be/UD-Cypress-Modern-Automation-Testing-from-Scratch-Frameworks.23.3.part2.rar.html
rapidgator.net/file/a38681377c2314f9311fd8d10d236604/UD-Cypress-Modern-Automation-Testing-from-Scratch-Frameworks.23.3.part3.rar.html
rapidgator.net/file/a3671a3bb53ff0a5cff09012792fc5bc/UD-Cypress-Modern-Automation-Testing-from-Scratch-Frameworks.23.3.part4.rar.html
rapidgator.net/file/8262fb01eae9bc5ded641b2d5187dd5a/UD-Cypress-Modern-Automation-Testing-from-Scratch-Frameworks.23.3.part5.rar.html
rapidgator.net/file/f1b00ed561b733168407cccad0a1518a/UD-Cypress-Modern-Automation-Testing-from-Scratch-Frameworks.23.3.part6.rar.html
rapidgator.net/file/3447a115c013bfc2ed63ead1806751d9/UD-Cypress-Modern-Automation-Testing-from-Scratch-Frameworks.23.3.part7.rar.html
rapidgator.net/file/d101bef7f51f3fea69af3f0062a6fdba/UD-Cypress-Modern-Automation-Testing-from-Scratch-Frameworks.23.3.part8.rar.html
If any links die or problem unrar, send request to
forms.gle/e557HbjJ5vatekDV9