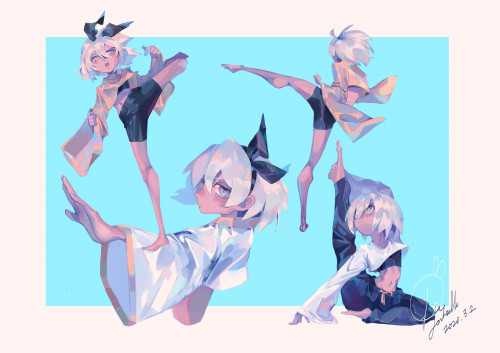 Class101 – Master the Pastel Aesthetic for Dream-like Character Illustrations
English | Size: 611.0MB
Category: Tutorial
1. Go at your own pace in this 32-week online course
2. Artistic guidance & pointers from the instructor
3. Supportive peer community exchanging feedback
4. Class is in production. Start learning after Nov, 6th
Paint Dream-like Illustrations
Learn Digital Drawing Using Clip Studio Paint with
Illustrator and Artist, Fortisselle a.k.a Kali
Ever find it difficult to put a pen on a paper to draw your original character illustration? Or have you ever had a difficult time hue selection and eventually found yourself stuck and frustrated when it's time to add color to your drawing?
It's time to get over the fear of painting and coloring! This course is for anyone interested in creating their original character illustration with a dreamy pastel color palette.
I will cover from conceptualization, posing, basic color theory, and incorporating my signature pastel colors to give your illustration that vibrant and delicate look.
Learn to create digital paintings in a pastel aesthetic with Clip Studio Paint. Whether you are a beginner or an advanced artist, I will guide you through the conceptualizing and coloring process of character illustration.
By the end of this course, you will be able to conceptualize, draw poses, understand the basic color theory, and create color palette that will help you develop your style and create a strong foundation for yourself.
Step 1: How to draw character poses and gestures
Welcome
Meet Your Instructor: Fortisselle!
Introduction to the course
Introduction to the Clip Studio Paint
Chapter 1: Overview of Clip Studio Paint
Basics of Clip studio
Learning how to use layers
How I sketch using Clip Studio
Chapter 2: Basic Character
Drawing gestures with shapes
Breaking down gestures using photo reference
Drawing faces from scratch
Chapter 3: Values, Shadows, and Edges
How the values work in drawing
Adding shadows to the shapes
Mastering Soft and Hard edges
Chapter 4: Colour
Understanding Complementary and Analogous Colours
Exploring Colour Harmony
Creating Colour Notes
Chapter 5: Different Colouring Techniques
Let's paint: Greyscale Style
Let's paint: Glossy Style
Let's paint: Painterly Style
Chapter 6: Illustrating a character from start to finish
Sketching a character
Colour blocking your sketch
Rendering your work
Adding Finishing Touches
Chapter 7: Creating an Illustration
Planning Composition and sketching
Colour Blocking your illustration
Rendering your work
Adding Finishing Touches
Outro
1. Congratulations on Completing the Course
About the Instructor
Illustrator, Fortisselle
Hello!
My name is Kali, and I started digital illustrating in 2014. I am currently a freelance illustrator and a student studying animation. I officially began my career as an artist online. Aside from taking commissions from people around the world, I sell my pieces online and conventions to reach a wider audience and promote my work.
Juggling between my schoolwork and my freelance work taught me the two topmost essential skills for freelance artists: time management and the ability to keep my focus. I am currently working hard to establish myself as an artist, and it is with great pleasure that I can share my tips and experience with you, who share the same passion for art as myself.
Q: How did you first start doing what you do?
My art started as doodling on my cheap sketchpad. I didn't have any background knowledge to be even close to becoming an artist. It was initially just a fun hobby until I decided to sit myself down and focus on improving my skills. Though drawing was just a hobby, my passion for art increased every other day, and I eventually wanted to be successful in this field. That was when art transformed from a hobby into my deepest passion. Ever since then, I have developed my original style that is still changing and evolving.
-People who want to illustrate using Clip Studio Paint
-People who want to create their original character
-People who want to illustrate their characters in natural poses and gestures
-People who want to build original aesthetic styles of illustration
Buy Long-term Premium Accounts To Support Me & Max Speed
RAPIDGATOR
rapidgator.net/file/84058ee4837be3ad5af8fee8f96a8e5f/%5BClass101%5D_Master_the_Pastel_Aesthetic_for_Dream-like_Character_Illustrations.rar.html
NITROFLARE
nitro.download/view/0205121DC3465BD/_Class101__Master_the_Pastel_Aesthetic_for_Dream-like_Character_Illustrations.rar
If any links die or problem unrar, send request to goo.gl/aUHSZc