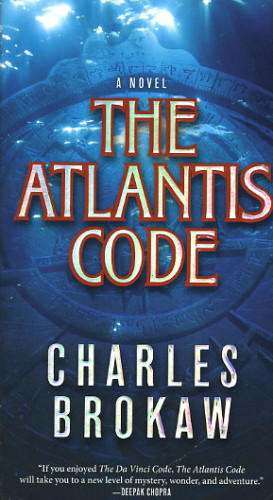 Charles Brokaw – Thomas Lourds Series (1-4)
English | Size: 1.30 GB
Category: E-books
The Atlantis Code
A thrill-seeking Harvard linguistics professor and an ultrasecret branch of the Catholic Church go head-to-head in a race to uncover the secrets of the lost city of Atlantis. The ruins of the technologically-advanced, eerily-enigmatic ancient civilization promise their discoverer fame, fortune, and power… but hold earth-shattering secrets about the origin of man.
While world-famous linguist and archaeologist, Thomas Lourds, is shooting a film that dramatizes his flamboyant life and scientific achievements, satellites spot impossibly ancient ruins along the Spanish coast. Lourds knows exactly what it means: the Lost Continent of Atlantis has been found. The race is on, and Lourds' challengers will do anything to get there first.Whoever controls the Lost Continent will control the world
The Lucifer Code
A sacred brotherhood has sworn, generation after generation, to protect this terrifying truth from those who would use it to unleash doomsday upon mankind.
When the unthinkable happens, and the holy scroll is uncovered, the race is on to reveal the true meaning of the cryptic language. Only one man, Dr. Thomas Lourds, the world's foremost scholar of ancient languages, who we first met in the bestselling novel The Atlantis Code, can safely decipher this most deadly scripture.
Lourds soon becomes the bait in the most lethal manhunt — knowing he must confront the true face of evil if the world is to be saved…
The Temple Mount Code
A long-lost ancient scripture which holds the key to one of the world's greatest treasures is discovered, hidden under the legendary Temple Mount.
When Thomas Lourds, the world's foremost scholar of ancient languages, is contacted by his old friend, Dr Lev Strauss about this discovery, he immediately rushes to inspect his findings.
But when he arrives, he finds his friend has been murdered.
And the book has vanished.
Lourds must uncover the murderer and track down the missing manuscript, fast, because this ancient artefact contains a hidden code.
A code that will give its solver access to a formidable and frightening power.
The Oracle Code
It was the most renowned and respected shrine in the Roman Empire, the object of veneration by Julius Caesar, Cleopatra, Octavian, and a host of other luminaries. It stood for centuries within a sacred precinct the size of a large town at the heart of the greatest Greek city in the world. Yet it disappeared without a trace, creating the greatest archaeological enigma of the ancient world. What became of the tomb of Alexander the Great? Does any part of it still survive? Find out in the latest installment of the New York Times bestselling series by Charles Brokaw, THE ORACLE CODE.
When word of the tomb's secret location and the treasured wisdom of the Oracle of Delphi it may hold materialize in the code of an ancient scroll in Afghanistan, Harvard linguist and archeologist professor Thomas Lourds must quickly find out. That is if the evil forces that wish to obtain the treasure that the tomb holds doesn't stop him first. Russian President Nevsky and his secret police will stop at nothing to harness the power of what the tomb may hold-power to control the world as Alexander the Great did. When the Taliban catches wind of the discovery they're also dangerously hot on the trail
Buy Long-term Premium Accounts To Support Me & Max Speed
RAPIDGATOR
rapidgator.net/file/f2a78ce7f1993b84660865d4253e3881/Thomas_Lourds_Series.part1.rar.html
rapidgator.net/file/b53ce02d8a46041bd959008e3f3df5c0/Thomas_Lourds_Series.part2.rar.html
NITROFLARE
nitro.download/view/C3F0F0F05E58DDB/Thomas_Lourds_Series.part1.rar
nitro.download/view/EB3638D08B9FFF2/Thomas_Lourds_Series.part2.rar
If any links die or problem unrar, send request to goo.gl/aUHSZc