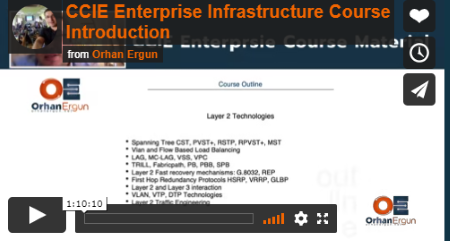 CCIE Enterprise Infrastructure | OrphanErgan
English | Size: 16.73 GB
Genre: eLearning
This is a Self Paced CCIE Enterprise Infrastructure Training Program v1.0 which helps you to pass CCIE Written and CCIE Practical exams. This course is lifetime access, no monthly or yearly extra payment!
If you have CCNA level knowledge, you can start CCIE with our program!
CCIE Enterprise Infrastructure training will not only cover traditional technologies and the new SDWAN, SDA and Network Programmability topics, but also will cover the topics which are out of the scope of the exam, such as Layer 2 VPNs. EVPN, Segment Routing, IS-IS Routing Protocols and so on.
This Training is more oriented on the basis of new and latest solutions instead of the legacy network technologies.
Technologies are covered from theory, design and lab aspects.
Although this is a Self Paced course, all students are placed in a same study group with the other CCIE Enterprise Training students and Orhan Ergun leads this group.
Config files/Labs, software images, workbook and the session videos are all free with this course. Also, although course is targeted for self learning. Orhan Ergun and his other instructors will help you in a study group!
Why CCIE Enterprise Infrastructure Training from Orhan Ergun
There are unique reasons why you should get this training from Orhan Ergun
30% of the exam is design and Orhan Ergun has been teaching network design since many years and 75+ people passed even CCDE Practical exam with him
In this training ,We will demonstrate over 100 Labs to the students for better understanding the technologies and the passing the exam
Study group and one to one mentorship for each student, similar to what Orhan has been doing for his CCDE students for many years
Workbooks , thousands of pages study materials , definitely will be much more than any of his competitor in the world
Self Paced study videos
Investment Protection – When you want to attend any of our other trainings such as CCIE SP , CCDE, Segment Routing etc, you will receive extra 30% discount over the course cost
What is the target audience?
The primary audience for this course is network engineers that need be able to use an expert-level problem-solving process that includes options analysis to support complex network technologies and topologies.
The secondary audience is network designers that design and support complex network technologies and topologies
nitro.download/view/A31538E6C0593CD/BootCamp-CCIE-Infrastructure-by-OrphanErgan.part01.rar
nitro.download/view/FED3F6E126BA6C3/BootCamp-CCIE-Infrastructure-by-OrphanErgan.part02.rar
nitro.download/view/47C56E68A9EAE1D/BootCamp-CCIE-Infrastructure-by-OrphanErgan.part03.rar
nitro.download/view/3543C0DE80ABE49/BootCamp-CCIE-Infrastructure-by-OrphanErgan.part04.rar
nitro.download/view/C06B60F45A257FF/BootCamp-CCIE-Infrastructure-by-OrphanErgan.part05.rar
nitro.download/view/CB0AE19F2321F64/BootCamp-CCIE-Infrastructure-by-OrphanErgan.part06.rar
nitro.download/view/50BEAF452B3A157/BootCamp-CCIE-Infrastructure-by-OrphanErgan.part07.rar
nitro.download/view/A747F2E1B345510/BootCamp-CCIE-Infrastructure-by-OrphanErgan.part08.rar
nitro.download/view/3B2E020359B284F/BootCamp-CCIE-Infrastructure-by-OrphanErgan.part09.rar
nitro.download/view/B6B7A44B3428400/BootCamp-CCIE-Infrastructure-by-OrphanErgan.part10.rar
nitro.download/view/C7F2B0FD971E000/BootCamp-CCIE-Infrastructure-by-OrphanErgan.part11.rar
nitro.download/view/5677792A10E825B/BootCamp-CCIE-Infrastructure-by-OrphanErgan.part12.rar
nitro.download/view/E824F1C0F90D2FB/BootCamp-CCIE-Infrastructure-by-OrphanErgan.part13.rar
nitro.download/view/DB86C3B7082DA78/BootCamp-CCIE-Infrastructure-by-OrphanErgan.part14.rar
nitro.download/view/F7B8BFFFC83D64D/BootCamp-CCIE-Infrastructure-by-OrphanErgan.part15.rar
nitro.download/view/4050CD286897D5A/BootCamp-CCIE-Infrastructure-by-OrphanErgan.part16.rar
nitro.download/view/A6ED3449A100859/BootCamp-CCIE-Infrastructure-by-OrphanErgan.part17.rar
rapidgator.net/file/7e165beb55f3e90e4eb9b271d892a716/BootCamp-CCIE-Infrastructure-by-OrphanErgan.part01.rar.html
rapidgator.net/file/69ab43d7d2395c43d0ca5dcc68780a05/BootCamp-CCIE-Infrastructure-by-OrphanErgan.part02.rar.html
rapidgator.net/file/e7dfe1fd7fb2a756f2cfd10607b8b31f/BootCamp-CCIE-Infrastructure-by-OrphanErgan.part03.rar.html
rapidgator.net/file/f0d0990ca7bafa1def306d87a5bc6a03/BootCamp-CCIE-Infrastructure-by-OrphanErgan.part04.rar.html
rapidgator.net/file/7c1628be9226d9e1dbdd78881a35df91/BootCamp-CCIE-Infrastructure-by-OrphanErgan.part05.rar.html
rapidgator.net/file/e95299a1311a3c5620f54834f5e78bf1/BootCamp-CCIE-Infrastructure-by-OrphanErgan.part06.rar.html
rapidgator.net/file/83c40f224cf999c9abd9a58b0d8391a6/BootCamp-CCIE-Infrastructure-by-OrphanErgan.part07.rar.html
rapidgator.net/file/a0ec9dc5314ee54c8243e27a057fa0b6/BootCamp-CCIE-Infrastructure-by-OrphanErgan.part08.rar.html
rapidgator.net/file/1a4f38593e36b0f7f06452236b602825/BootCamp-CCIE-Infrastructure-by-OrphanErgan.part09.rar.html
rapidgator.net/file/dc27d30ac774b17a55aadd13ef48d93a/BootCamp-CCIE-Infrastructure-by-OrphanErgan.part10.rar.html
rapidgator.net/file/59d67d239659c14255dc1e6edb7bdd6e/BootCamp-CCIE-Infrastructure-by-OrphanErgan.part11.rar.html
rapidgator.net/file/31c320db41c8de4f06e2c877f9c5094f/BootCamp-CCIE-Infrastructure-by-OrphanErgan.part12.rar.html
rapidgator.net/file/4420a5ab6f5aa836f7f16a9612fe3da8/BootCamp-CCIE-Infrastructure-by-OrphanErgan.part13.rar.html
rapidgator.net/file/da3f0d69173e1c43c64100ec6c758f26/BootCamp-CCIE-Infrastructure-by-OrphanErgan.part14.rar.html
rapidgator.net/file/7ff6fe19a14f3cdb0d3c03ba77e1b7e6/BootCamp-CCIE-Infrastructure-by-OrphanErgan.part15.rar.html
rapidgator.net/file/9f7dab732c82c09b483ac8a64e175062/BootCamp-CCIE-Infrastructure-by-OrphanErgan.part16.rar.html
rapidgator.net/file/278be5096027a2173e03844b2d2f3fb1/BootCamp-CCIE-Infrastructure-by-OrphanErgan.part17.rar.html
If any links die or problem unrar, send request to
goo.gl/t4uR9G