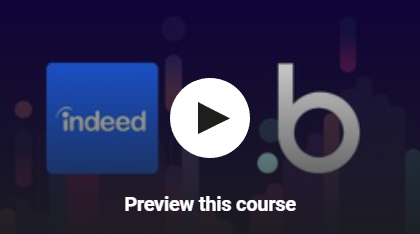 Building A Job Board Like Indeed With No-Code Using Bubble | Udemy
English | Size: 2.03 GB
Genre: eLearning
What you'll learn
How to build your own job board like Indeed without writing a single line of code
An overview of Bubble's no-code toolset
How to set-up your own custom database
How to register new user accounts
How to create a settings page for users to update their profile information
How to create a search function to discover relevant jobs
How to submit a new job listing & process payments
How to display a list of relevant job search results that can be filtered
How to create a function for users to apply for jobs
How to create an employer dashboard to manage job listings
How to dynamically display company information on a profile page
Additional tips & insights to help on your Bubble journey
Learn how to build your own job board like Indeed without touching a single line of code. This course covers the step-by-step process of creating a functional job board that's ready to launch. Utilizing Bubble's no-code platform, it explains the exact workflows you'll need to replicate Indeed's product.
Throughout 11 course modules, I'll cover the process of building the following core features:
Getting started with Bubble
Configuring your database
Registering user accounts
Updating and storing user profile data
Creating a home page to search for jobs
Creating a function to submit jobs & process payments
Displaying a list of jobs on a search results page
Building a function to apply for jobs
Creating an admin dashboard to manage job listings
Displaying company information on a profile page
Additional tips & insights to help on your Bubble journey
By the end of this course, you'll have a working product that can be used to build your own startup, knowledge on how to build a job board product for freelance clients, and new skills to expand your Bubble knowledge.
Learn from an experienced Bubble developer & coach who has helped multiple founders build successful apps without code.
In 2020, I worked directly with the Bubble team to write their 'How-to build' blog series. Each installment shared written instructions on how to recreate popular products using their no-code tool. To simplify the building process, I've created my own video series to help guide you in a more engaging way.
Who this course is for:
Anyone who wants to quickly build their own job board like Indeed with minimal cost and time input
Anyone interested in learning about Bubble's no-code development tool
Anyone looking to extend their skills as a freelance Bubble developer
Makers who want to extend their knowledge into Bubble's no-code toolset
nitro.download/view/C3992811939732A/UD-BuildingAJobBoardLikeIndeedWithNo-CodeUsingBubble.4.5.1.part1.rar
nitro.download/view/C7DA54127E7F107/UD-BuildingAJobBoardLikeIndeedWithNo-CodeUsingBubble.4.5.1.part2.rar
nitro.download/view/32F33D4530775A1/UD-BuildingAJobBoardLikeIndeedWithNo-CodeUsingBubble.4.5.1.part3.rar
nitro.download/view/5ED055D90E68EC4/UD-BuildingAJobBoardLikeIndeedWithNo-CodeUsingBubble.4.5.1.part4.rar
nitro.download/view/26E30FC2E3A9ACE/UD-BuildingAJobBoardLikeIndeedWithNo-CodeUsingBubble.4.5.1.part5.rar
nitro.download/view/22D5C5B3D2FCEF1/UD-BuildingAJobBoardLikeIndeedWithNo-CodeUsingBubble.4.5.1.part6.rar
rapidgator.net/file/f184d92c08ef3c2dfa1db0d7c1dc36f0/UD-BuildingAJobBoardLikeIndeedWithNo-CodeUsingBubble.4.5.1.part1.rar.html
rapidgator.net/file/3e750f765698391cc166254887c07441/UD-BuildingAJobBoardLikeIndeedWithNo-CodeUsingBubble.4.5.1.part2.rar.html
rapidgator.net/file/d99e0f4890b5a063bffd2f0c5647deb1/UD-BuildingAJobBoardLikeIndeedWithNo-CodeUsingBubble.4.5.1.part3.rar.html
rapidgator.net/file/dd664b4ca67ac05da54e373df01a5425/UD-BuildingAJobBoardLikeIndeedWithNo-CodeUsingBubble.4.5.1.part4.rar.html
rapidgator.net/file/f3d754e55b5fd7427b4b136a2a6286bb/UD-BuildingAJobBoardLikeIndeedWithNo-CodeUsingBubble.4.5.1.part5.rar.html
rapidgator.net/file/94ec1b4d6917db1b66a3b7d0a3d7bae2/UD-BuildingAJobBoardLikeIndeedWithNo-CodeUsingBubble.4.5.1.part6.rar.html
If any links die or problem unrar, send request to
forms.gle/e557HbjJ5vatekDV9