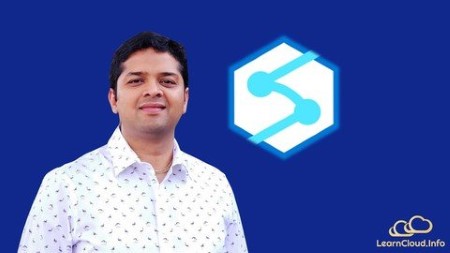 Azure SQL Data Warehouse Synapse Analytics Service | Udemy
English | Size: 2.35 GB
Genre: eLearning
What you'll learn
Azure SQL Data warehouse
Azure Synapse Analytics Service
PolyBase
Cloud Data Warehouse
Microsoft SQL Data Warehouse basics
Why Azure Synapse Analytics Service (formerly Azure SQL Data Warehouse)
Azure Synapse Analytics truly is a game-changer in Data processing and Analytics.
In the most recent study conducted by GigaOm in January 2019 for the TPC-H benchmark report shows that Synapse Analytics is 14 times fast and still 94% cheaper than any other leading service in the market.
And that's why clients are shifting to Azure and Azure is growing at nearly twice the rate of Amazon Web Services.
According to a 2019 Dice report, there was an 88% year-over-year growth in job postings for data engineers, which was the highest growth rate among all technology jobs.
If you are interested in this domain, there cannot be a better time to start learning Azure Synapse Analytics Data Warehouse then now.
Expected Outcomes
In this course
You will learn the difference between Traditional vs Modern vs Synapse Data warehouse architecture
You will learn why Microsoft Synapse Analytics service is going to be a game-changer in the Data Analytics
You will learn how to provision, configure and scale Azure Synapse Analytics service
You will learn Cloud Data Warehouse MPP architecture, table types, partitioning, distribution key, and many other important concepts.
You will learn different migration techniques and advantage of PolyBase over other techniques with lots of Demos
You will learn Security, Configuration, backups, monitoring and other important topics with lots of Demos
By the end of this course, you will have a fairly good understanding of Synapse Service and you can directly start working in a Production environment.
100% Syllabus covered for DP200 and DP201 certification exam for Azure Data warehouse (Synapse)
What if I am new in Data Warehouse?
I have included a module on Data Warehouse Basics (Crash course to speed up with Cloud warehousing)
Level
Beginners & intermediate
Intended Audience
Beginners in Azure Platform
Data Warehouse developers/ admins
Database and BI developers
Database Administrators
Data Engineers
Data Scientist
Data Analyst or similar profiles
On-Premises Database related profiles who want to learn how to implement these technologies in Azure Cloud.
Anyone who is looking forward to starting his career as an Azure Data Engineer.
Prerequisites
Basic T-SQL and Database concepts
Azure Free trial Subscription
Language
English
If you are not comfortable in English, please do not take the course, captions are not good enough to understand the course.
What's inside
Video lectures, PPTs, Demo Resources, Quiz, Assignment, other important links
Full lifetime access with all future updates
Certificate of course completion
30-Day Money-Back Guarantee
Who this course is for:
Beginners in Azure Platform
Database Developer
BI Developer
Database Administrators
Data Engineers
Data Scientist
Data Analyst or similar profiles
nitro.download/view/BBF253F9C4B2598/Azure-SQL-Data-Warehouse-Synapse-Analytics-Service.part1.rar
nitro.download/view/6A46F223E0B3A9B/Azure-SQL-Data-Warehouse-Synapse-Analytics-Service.part2.rar
nitro.download/view/12609A0E016E961/Azure-SQL-Data-Warehouse-Synapse-Analytics-Service.part3.rar
nitro.download/view/2D574E773DEDC19/Azure-SQL-Data-Warehouse-Synapse-Analytics-Service.part4.rar
nitro.download/view/BADB274D3DB3671/Azure-SQL-Data-Warehouse-Synapse-Analytics-Service.part5.rar
rapidgator.net/file/771cb68531a7be55f09aa9175076a907/Azure-SQL-Data-Warehouse-Synapse-Analytics-Service.part1.rar.html
rapidgator.net/file/39ad4a299e848f51b4cfe62d4f80dbca/Azure-SQL-Data-Warehouse-Synapse-Analytics-Service.part2.rar.html
rapidgator.net/file/154ca8060228ab9d48d17a775bd8aeba/Azure-SQL-Data-Warehouse-Synapse-Analytics-Service.part3.rar.html
rapidgator.net/file/4617903b842753d731a4eeee3a2bbc3c/Azure-SQL-Data-Warehouse-Synapse-Analytics-Service.part4.rar.html
rapidgator.net/file/5a60c058de7cacdb7b063324d5098fa3/Azure-SQL-Data-Warehouse-Synapse-Analytics-Service.part5.rar.html
If any links die or problem unrar, send request to
goo.gl/t4uR9G